Launch of the Arthouse Cinema Hub!
• Press Release
• CICAE network
• Film Industry
Would you like to know what independent cinemas around the world are up to? Do you need inspiration for your program, marketing, or management? Do you have a great idea you want to share with your community? The Arthouse Cinema Hub (www.arthousecinemahub.com) is the place to learn, connect, and share your ideas about programming, marketing, business, audience development and cinema space with the arthouse cinema industry worldwide.
The hub will provide:

Best practices for cinemas
An overview of initiatives, projects and networks worldwide
A chance to connect and contribute your own experiences, insights, and ideas
Discover ideas to celebrate the European Arthouse Cinema Day
With the upcoming European Arthouse Cinema Day, the Arthouse Cinema Hub has gathered best practices to support the over 600 participating cinemas in all matters concerning communication and creating a great event to celebrate European film and movie theatres on November 12th.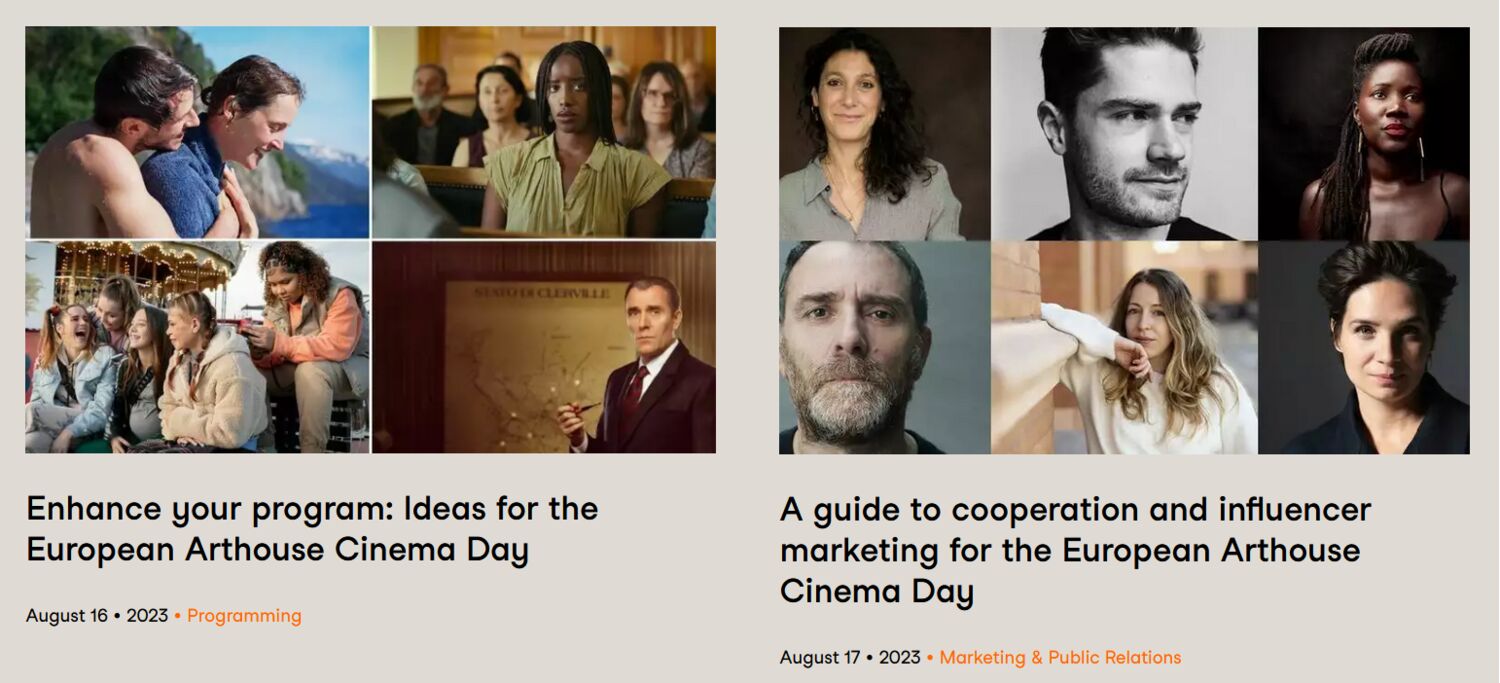 Join the Hub, Share your ideas
You have a great idea, intiative, or project to share with the arthouse world? We would love to hear from you!
Write us an e-mail with your name, occupation, country, short bio and your idea.

Your idea does not have to be fully edited already, simply let us know about the content you would like to share.

We will contact you immediately with a blueprint and you can start writing.

Of course, our team of editors will support you during the process.*

Time to publish!
*You can always choose to write in your preferred language and we will translate for you.
Share your local actions:
We are especially looking forward to share your local actions planned for the European Arthouse Cinema Day. Please share your insights to inspire other cinemas and document the celebrations via photo and social media tagging the @artcinemaday and @cicaeartcinema channels.
About the Arthouse Cinema Hub
Initiated by the CICAE, the Arthouse Cinema Hub will become the central resource and home for arthouse cinema's best practices. It serves to showcase the exceptional contributions arthouse cinemas are making around the world. Here, you can find and share initiatives, projects, experiences and ideas and find inspiration for your own work.
The Arthouse Cinema Hub is an initiative by the CICAE, developed in cooperation with the European Arthouse Cinema Day. The hub is funded by the European Union's Creative Europe MEDIA programme.

We are looking forward to hear about the ideas that you want to share on the Hub - drop us an email and we will be happy to publish your best practises on our platform.

The CICAE Team